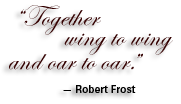 Customer satisfaction is our mission? Sure it's a cliche. But it's also an axiom - a self-evident and universally recognized truth. After all, who would strive for customer dissatisfaction? Just saying something is one thing - making it your mission is another.
I have been providing quality graphic solutions for my clients since 1978. It's my belief that graphic design is not a single job - it's many. And they're all based on good communication skills. I will listen to what you have to say and make note of what you are trying to achieve. I will ask questions until I feel I truly understand what you are trying to achieve, what you like and dislike and what your expectations are. My goal is to work with you, within your budget, to create an excellent design solution that will work in the marketplace, as well as make you happy. I will endeavor to make sure you are satisfied with the results. After all, it's the results that count.

Owner | Freelance Designer | Editor/Writer/Art Director, Airlift/Tanker Quarterly
Hi. My name is Collin Bakse and I am a freelance designer doing business as Bakse Graphic Design. Prior to establishing Bakse Graphic Design in 1978, I was involved in the advertising and printing industries, gaining experience in nearly every aspect of print media advertising and print production.

I have held positions as the lead designer for an advertising agency, a printing company make-ready production artist and pressman and the owner/art director for my own company. During my career I have produced and/or overseen print-media advertising campaigns, printing project production and website creation for a variety of retail, commercial and industrial clients throughout the country. In 2004 I made the decision to downsize my company and I am currently working as a freelance designer.

In addition to my endeavors as a freelance designer, I also serve as the editor/writer/art director for Airlift/Tanker Quarterly (A/TQ), the association publication of the Airlift/Tanker Association, and as the art director for various corporate and educational entity newsletters. My background is founded in the fine arts and I continue to produce and show drawings, paintings and mixed media works (though not as often as I should). I served in the U.S. Army for six years in Military Intelligence (I know it's an oxymoron), and was honorably discharged in 1973.

Active in community activities, I have served on the board of directors of various civic organizations including the Rotary Club of Belleville, Illinois, and frequently volunteer my time and my graphic art talents to charitable organizations and other worthwhile causes.

My home and office are located on a farm between the cities of Belleville and Mascoutah, in St. Clair County, Illinois.

Business Manager | Editorial/Advertising Coordinator, Airlift/Tanker Quarterly
Dawn is my life partner as well as my business partner. We have been happily married since 1974. Her support and hard work have been instrumental to the success of Bakse Graphic Design. She backed me whole-heartedly when I suggested starting my own graphic arts company back in 1978, and her background helped me immeasurably.

Prior to becoming the business manager and bookkeeper for our fledgling business, Dawn held several positions in the banking industry. Her understanding of accounting issues and financial matters, which I willing left in her capable hands, provided me the freedom to concentrate on building a clientele without the worry of such nuisances as business accounting, State Unemployment Insurance and the IRS.

In addition to her duties at Bakse Graphic Design, Dawn is the editorial and advertising coordinator for Airlift/Tanker Quarterly, serving as the primary contact for advertising insertion orders, editorial content submissions, etc. She also serves in this capacity for other clients.

Best of all, she performs these exceptionally important fuctions on a strictly volunteer basis. Now that's what I call a partner!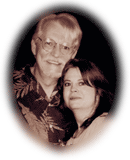 Past awards include four Apex Awards of Excellence for Southern Illinois Builders Association publications; an Illinois Press Association Best Niche Publication Award for the Scott Air Force Base Directory; an Apex Prestigious Communicator Award for MidAmerica Airport's original website; an Apex Award of Excellence for the Râvenel Planned Community marketing brochure; and 2006 & 2007 Apex Awards of Excellence for A/TQ (Airlift/Tanker Quarterly).
Collin and Dawn Bakse were awarded the prestigious Airlift/Tanker Association President's Award for service to the organization at the Association's 2004 Convention in Dallas, Texas.